Dr. Bharat J.Patel - Orthopaedic Surgeon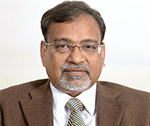 Born on 7th August, 1955 at Umreth near Kheda.
Passed out as an Orthopaedic Surgeon from famous B.J.Medical College ( Civil) in the year April, 1982
Started his career with one of the eminent orthopaedic surgeon Late Dr. Dinubhai Patel
Dr. Bharat Patel's paper on "Patella in Knee Surgery" was awarded as best paper presented by German Orthopaedic Society, in Germany, 1997.
Established his own orthopaedic hospital on the name of Navrangpura Orthopaedic Hospital in the year 1989.
His keen interest in Joint Replacement Surgery leads him to perform his first Hip Replacement Surgery in the year 1983.
He is one of the first few joint replacement Surgeons whom have started world famous Total Knee Joint Replacement Surgery in Ahmedabad in the year 1992.
He is faculty of primary and Revision Arthroplasty in various National and International conferences.
In the year 1998 under his leadership Ahmedabad has got its first of its kind Proprietor owned but corporate philosophy hospital having all the facilities under one roof on the name of Samved Hospital.
He was instrumental in bringing most advanced technology for Joint replacement Surgery named IGS (Image Guided Surgery- a pre robotic surgery) in the year 2003 to Asia.
Samved Orthopaedic Hospital was one of the few hospitals who have implemented Quality standards in Healthcare Industry and got ISO certification in the year 2003.
Dr. Bharat Patel was selected as a member by QCI in the Committee on Healthcare for the year 2006-07 and for the year 2007-08, guiding to Healthcare Ministry for better healthcare.
Samved Orthopaedic Hospital was rated 5th Best Orthopaedic Hospital in India, by THE WEEK magazine under survey done on Best Hospitals in India.