contact

Contact us

Samved Orthopaedic Hospital

"Samved" Hospital

3rd Floor, Near Sopan Flats, On Stadium Circle to Commerce College Six Roads, Navrangpura, Ahmedabad - 380 009.

Tel: +

91 79 2656 2993

Email:

samvedortho@yahoo.com

Total Knee Replacement
Dr. Bharat Patel first performed Knee replacement surgery in 1992 . Since then, improvements in surgical materials and techniques have greatly increased its effectiveness. Total knee replacements are one of the most successful procedures in all of medicine. These days looking into increasing patient awareness and demands, samved has been a pioneer centre once again in performing knee replacement surgery with designs offering full knee flexion, commonly referred as high flex knees.

Also at Samved , we have been commited in using the highest quality of material during our operations, including implants sourced only from international companies of highest repute.
Anatomy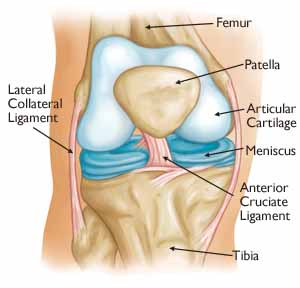 The knee is the largest joint in the body and having healthy knees is required to perform most everyday activities.

The knee is made up of the lower end of the thighbone (femur), the upper end of the shinbone (tibia), and the kneecap (patella). The ends of these three bones where they touch are covered with articular cartilage, a smooth substance that protects the bones and enables them to move easily. The menisci are located between the femur and tibia. These C-shaped wedges act as "shock absorbers" that cushion the joint.

Large ligaments hold the femur and tibia together and provide stability. The long thigh muscles give the knee strength.

All remaining surfaces of the knee are covered by a thin lining called the synovial membrane. This membrane releases a fluid that lubricates the cartilage, reducing friction to nearly zero in a healthy knee.

Normally, all of these components work in harmony. But disease or injury can disrupt this harmony, resulting in pain, muscle weakness, and reduced function.
Cases
History
70 year old female presented to us with severe pain in left knee.
On examination it was found that she is having advanced osteoarthritis of left knee along with a stress fracture.
Pre operation X-Ray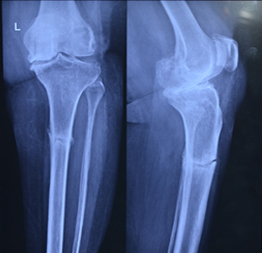 Post Operative Condition
She was operated for left knee replacement in which a special extension rod was used to fix the tibia fracture.
Patient was mobilized from the next day and doing very good without any pain in her knee.
Post operation X-Ray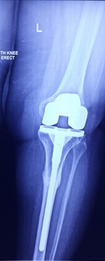 Cause
The most common cause of chronic knee pain and disability is arthritis. Although there are many types of arthritis, most knee pain is caused by just three types: osteoarthritis, rheumatoid arthritis, and post-traumatic arthritis.
Osteoarthritis. This is an age-related "wear and tear" type of arthritis. It usually occurs in people 50 years of age and older, but may occur in younger people, too. The cartilage that cushions the bones of the knee softens and wears away. The bones then rub against one another, causing knee pain and stiffness.
Rheumatoid arthritis. This is a disease in which the synovial membrane that surrounds the joint becomes inflamed and thickened. This chronic inflammation can damage the cartilage and eventually cause cartilage loss, pain, and stiffness. Rheumatoid arthritis is the most common form of a group of disorders termed "inflammatory arthritis."
Post-traumatic arthritis. This can follow a serious knee injury. Fractures of the bones surrounding the knee or tears of the knee ligaments may damage the articular cartilage over time, causing knee pain and limiting knee function.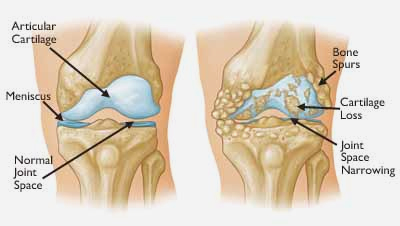 Osteoarthritis often results in bone rubbing on bone. Bone spurs are a common feature of this form of arthritis.
Description
A knee replacement (also called knee arthroplasty) might be more accurately termed a knee "resurfacing" because only the surface of the bones are actually replaced.

There are four basic steps to a knee replacement procedure.
Prepare the bone. The damaged cartilage surfaces at the ends of the femur and tibia are removed along with a small amount of underlying bone.
Position the metal implants. The removed cartilage and bone is replaced with metal components that recreate the surface of the joint. These metal parts may be cemented or "press-fit" into the bone.
Resurface the patella. The undersurface of the patella (kneecap) is cut and resurfaced with a plastic button. Some surgeons do not resurface the patella, depending upon the case.
Insert a spacer. A medical-grade plastic spacer is inserted between the metal components to create a smooth gliding surface.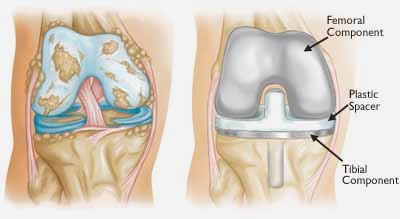 (Left) Severe osteoarthritis. (Right) The arthritic cartilage and underlying bone has been removed and resurfaced with metal implants on the femur and tibia. A plastic spacer has been placed in between the implants. The patellar component is not shown for clarity.
Is Total Knee Replacement for You?
The decision to have total knee replacement surgery should be a cooperative one between you, your family, your family physician, and your orthopaedic surgeon. Your physician may refer you to an orthopaedic surgeon for a thorough evaluation to determine if you might benefit from this surgery.
When Surgery Is Recommended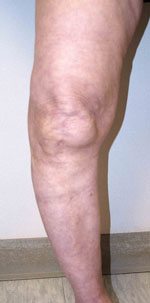 There are several reasons why your doctor may recommend knee replacement surgery. People who benefit from total knee replacement often have:
Severe knee pain or stiffness that limits your everyday activities, including walking, climbing stairs, and getting in and out of chairs. You may find it hard to walk more than a few blocks without significant pain and you may need to use a cane or walker
Moderate or severe knee pain while resting, either day or night
Chronic knee inflammation and swelling that does not improve with rest or medications
Knee deformity — a bowing in or out of your knee
Failure to substantially improve with other treatments such as anti-inflammatory medications, cortisone injections, lubricating injections, physical therapy, or other surgeries
Candidates for Surgery
There are no absolute age or weight restrictions for total knee replacement surgery.

Knee replacement is adviced by us after doing a thourogh examination of the patient.

When ADL( activities of daily living- like routine walking, standing, travelling) is affected resulting in decreased quality of patient life , due to knee Osteoarthritis; knee replacement is usually suggested.
Deciding to Have Knee Replacement Surgery
Realistic Expectations
An important factor in deciding whether to have total knee replacement surgery is understanding what the procedure can and cannot do.
More than 90% of people who have total knee replacement surgery experience a dramatic reduction of knee pain and a significant improvement in the ability to perform common activities of daily living. But total knee replacement will not allow you to do more than you could before you developed arthritis.
With normal use and activity, every knee replacement implant begins to wear in its plastic spacer. Excessive activity or weight may speed up this normal wear and may cause the knee replacement to loosen and become painful. Therefore, most surgeons advise against high-impact activities such as running, jogging, jumping, or other high-impact sports for the rest of your life after surgery.
Realistic activities following total knee replacement include unlimited walking, swimming, golf, driving, light hiking, biking, ballroom dancing, and other low-impact sports.
With appropriate activity modification, knee replacements can last for many years.
Possible Complications of Surgery
The complication rate following total knee replacement is low. Serious complications, such as a knee joint infection, occur in fewer than 2% of patients. Major medical complications such as heart attack or stroke occur even less frequently. Chronic illnesses may increase the potential for complications. Although uncommon, when these complications occur, they can prolong or limit full recovery.
Discuss your concerns thoroughly with your orthopaedic surgeon prior to surgery.
Infection - Infection may occur in the wound or deep around the prosthesis. It may happen while in the hospital or after you go home. It may even occur years later. Minor infections in the wound area are generally treated with antibiotics. Major or deep infections may require more surgery and removal of the prosthesis. Any infection in your body can spread to your joint replacement.
Blood clots - Blood clots in the leg veins are one of the most common complications of knee replacement surgery. These clots can be life-threatening if they break free and travel to your lungs. Your orthopaedic surgeon will outline a prevention program, which may include periodic elevation of your legs, lower leg exercises to increase circulation, support stockings, and medication to thin your blood.
Implant problems - Although implant designs and materials, as well as surgical techniques, continue to advance, implant surfaces may wear down and the components may loosen. Additionally, although an average of 115° of motion is generally anticipated after surgery, scarring of the knee can occasionally occur, and motion may be more limited, particularly in patients with limited motion before surgery.
Continued Pain - A small number of patients continue to have pain after a knee replacement. This complication is rare, however, and the vast majority of patients experience excellent pain relief following knee replacement.
Neurovascular Injury - While rare, injury to the nerves or blood vessels around the knee can occur during surgery.
Preparing for Surgery
Medical Evaluation
If you decide to have total knee replacement surgery, your orthopaedic surgeon may ask you to schedule a complete physical examination with your family physician several weeks before the operation. This is needed to make sure you are healthy enough to have the surgery and complete the recovery process. Many patients with chronic medical conditions, like heart disease, may also be evaluated by a specialist, such as a cardiologist, before the surgery.
Tests
Several tests, such as blood and urine samples, and an electrocardiogram, may be needed to help your orthopaedic surgeon plan your surgery.
Medications
Tell your orthopaedic surgeon about the medications you are taking. He or she will tell you which medications you should stop taking and which you should continue to take before surgery.
Dental Evaluation
Although the incidence of infection after knee replacement is very low, an infection can occur if bacteria enter your bloodstream. To reduce the risk of infection, major dental procedures (such as tooth extractions and periodontal work) should be completed before your total knee replacement surgery.
Urinary Evaluations
People with a history of recent or frequent urinary infections should have a urological evaluation before surgery. Older men with prostate disease should consider completing required treatment before undertaking knee replacement surgery.
Social Planning
Although you will be able to walk on crutches or a walker soon after surgery, you will need help for several weeks with such tasks as cooking, shopping, bathing, and doing laundry.
If you live alone, your orthopaedic surgeon's office, a social worker, or a discharge planner at the hospital can help you make advance arrangements to have someone assist you at home. They also can help you arrange for a short stay in an extended care facility during your recovery, if this option works best for you.
Home Planning
Several modifications can make your home easier to navigate during your recovery. The following items may help with daily activities:
Safety bars or a secure handrail in your shower or bath
Secure handrails along your stairways
A stable chair for your early recovery with a firm seat cushion (and a height of 18 to 20 inches), a firm back, two arms, and a footstool for intermittent leg elevation
A toilet seat riser with arms, if you have a low toilet
A stable shower bench or chair for bathing
Removing all loose carpets and cords
A temporary living space on the same floor because walking up or down stairs will be more difficult during your early recovery
Recovery
The success of your surgery will depend largely on how well you follow your orthopaedic surgeon's instructions at home during the first few weeks after surgery.
Wound Care - You will have stitches or staples running along your wound or a suture beneath your skin on the front of your knee. The stitches or staples will be removed several weeks after surgery. A suture beneath your skin will not require removal.
Avoid soaking the wound in water until it has thoroughly sealed and dried. You may continue to bandage the wound to prevent irritation from clothing or support stockings.
Diet - Some loss of appetite is common for several weeks after surgery. A balanced diet, often with an iron supplement, is important to help your wound heal and to restore muscle strength
Activity - Exercise is a critical component of home care, particularly during the first few weeks after surgery. You should be able to resume most normal activities of daily living within 3 to 6 weeks following surgery. Some pain with activity and at night is common for several weeks after surgery.
Your activity program should include:
A graduated walking program to slowly increase your mobility, initially in your home and later outside
Resuming other normal household activities, such as sitting, standing, and climbing stairs
Specific exercises several times a day to restore movement and strengthen your knee. You probably will be able to perform the exercises without help, but you may have a physical therapist help you at home or in a therapy center the first few weeks after surgery.

You will most likely be able to resume driving when your knee bends enough that you can enter and sit comfortably in your car, and when your muscle control provides adequate reaction time for braking and acceleration. Most people resume driving approximately 4 to 6 weeks after surgery.
© 2013 | All rights reserved. | Disclaimer | Privacy Policy |