Arthroscopy Surgery
Arthroscopy is a common surgical procedure in which a joint (arthro-) is viewed (-scopy) using a small camera. Arthroscopy gives a clear view of the inside of the knee, helping us to diagnose and treat knee problems.

With the latest Technical advances like high definition monitors and high resolution cameras, controlled Pressure Pumps, Radio Frequency (RF) ablation devices and latest Shaver systems, available with us at Samved Hospital - have made arthroscopy a very effective tool for treating knee problems.
Description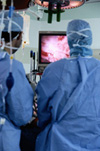 Arthroscopy is done through small incisions. During the procedure, your orthopaedic surgeon inserts the arthroscope (a small camera instrument about the size of a pencil) into your knee joint. The arthroscope sends the image to a television monitor. On the monitor, your surgeon can see the structures of the knee in great detail.

We can use arthroscopy to feel, repair or remove damaged tissue. To do this, small surgical instruments are inserted through other incisions around your knee.
Preparing for Surgery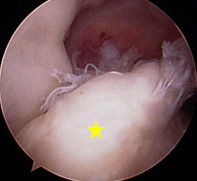 If you decide to have knee arthroscopy, you may need a complete physical examination with your family physician before surgery. He or she will assess your health and identify any problems that could interfere with your surgery.

Before surgery, tell your orthopaedic surgeon about any medications or supplements that you take. He or she will tell you which medicines you must stop taking before surgery.

To help plan your procedure, your orthopaedic surgeon may order pre-operative tests. These may include blood counts or an EKG (electrocardiogram).
Surgery
Almost all arthroscopic knee surgery is done on an outpatient basis.
Arrival
Your hospital or surgery center will contact you with specific details about your appointment. You will likely be asked to arrive at the hospital an hour or two before your surgery. Do not eat or drink anything after midnight the night before your surgery.
Anesthesia
When you first arrive for surgery, a member of the anesthesia team will talk with you. Arthroscopy can be performed under local, regional, or general anesthesia.
Local anesthesia numbs just your knee
Regional anesthesia numbs you below your waist
General anesthesia puts you to sleep
The anesthesiologist will help you decide which method would be best for you.
If you have local or regional anesthesia, you may be able to watch the procedure on a television monitor.
Procedure
The orthopaedic surgeon will make a few small incisions in your knee. A sterile solution will be used to fill the knee joint and rinse away any cloudy fluid. This helps your orthopaedic surgeon see your knee clearly and in great detail.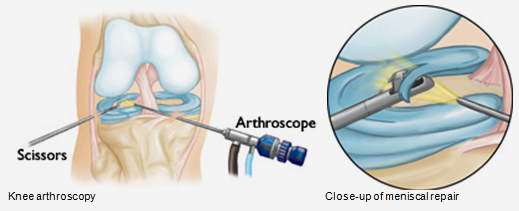 Your surgeon's first task is to properly diagnose your problem. He or she will insert the arthroscope and use the image projected on the screen to guide it. If surgical treatment is needed, your surgeon will insert tiny instruments through another small incision. These instruments might be scissors, motorized shavers, or lasers.

This part of the procedure usually lasts 30 minutes to over an hour. How long it takes depends upon the findings and the treatment necessary.

Arthroscopy for the knee is most commonly used for:
Removal or repair of torn meniscal cartilage
Reconstruction of a torn anterior cruciate ligament
Trimming of torn pieces of articular cartilage
Removal of loose fragments of bone or cartilage
Removal of inflamed synovial tissue
Knee Arthroscopy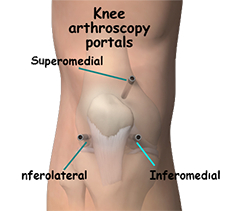 • Torn meniscal cartilage.
• Loose fragments of bone or cartilage.
• Damaged joint surfaces or softening of the articular cartilage, known as chondromalacia.
• Inflammation of the synovial membrane, such as rheumatoid or gouty (crystalline arthropathy) arthritis.
• Abnormal alignment or instability of the kneecap.
• Torn ligaments, including the anterior and posterior cruciate ligaments.




Shoulder Arthroscopy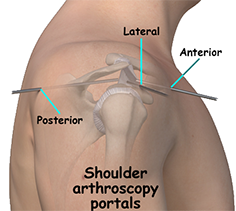 • Rotator cuff tears
• Dislocating shoulders
• Labrum injuries
• Frozen shoulder






Hip Arthroscopy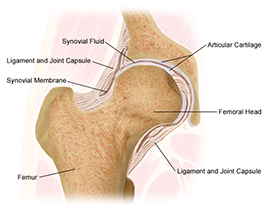 • Femoroacetabular impingement (FAI)
• Dysplasia.
• Snapping hip syndromes.
• Synovitis.
• Loose bodies.
• Hip joint infection




Elbow Arthroscopy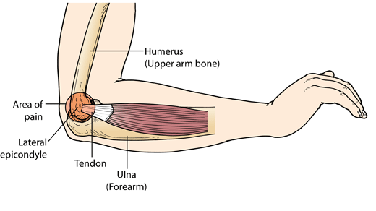 • Treatment of tennis elbow (lateral epicondylitis)
• Removal of loose bodies (loose cartilage and bone fragments)
• Release of scar tissue to improve range of motion
• Treatment of osteoarthritis (wear and tear arthritis)
• Treatment of rheumatoid arthritis (inflammatory arthritis)
• Treatment of osteochondritis dissecans (activity related damage to the capitellum portion of the humerus seen in throwers or gymnasts)



Wrist Arthroscopy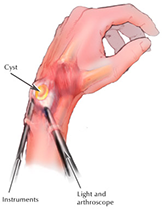 Treatment of carpal tunnel syndrome.









Ankle Arthroscopy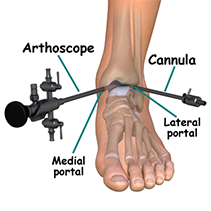 Synovial chondromatosis, loose bodies, severe ankle sprain.









© 2013 | All rights reserved. | Disclaimer | Privacy Policy |