contact

Contact us

Samved Orthopaedic Hospital

"Samved" Hospital

3rd Floor, Near Sopan Flats, On Stadium Circle to Commerce College Six Roads, Navrangpura, Ahmedabad - 380 009.

Tel: +

91 79 2656 2993

Email:

samvedortho@yahoo.com

Trauma/ Accidental Surgery
Trauma
In today's era of fast life RTA & mortality from RTA has increased 10 folds and with better and faster mode of transport it is going to rise only.

Initial 1st hour post injury or accident is known as "Golden Hour" .If during Golden Hour patient gets primary Treatment, chance of his survival increases and more and more lives can be saved.

Samved Orthopaedic Hospital is having advanced Trauma Care Centre which is equipped with latest Technology for resuscitation of patient.
Cases
History
Female patient presented to us with severe pain in her left arm and unable to move it; after a fall in which she suffered a very bad fracture of her left distal humerus
She was operated, where a plate was used to fix the fracture and also bone graft were placed. The fracture united and the patient is able to do all her activities.
Pre operation X-Ray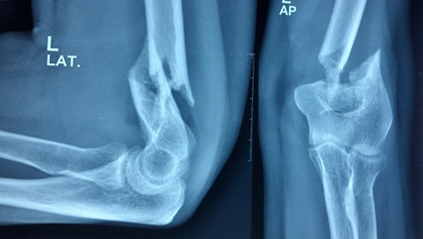 Post operation X-Ray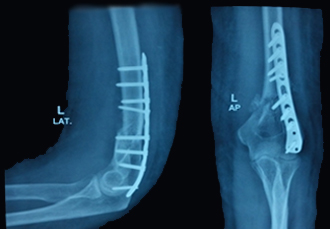 Samved Orthopaedic Hospital is having following facility to deal with any criticality of trauma.
24x7 Emergency Department
24x7 Ambulance Services
24x 7 ICU setup with Ventilator Facility
24 x 7 CT Scan and MRI facility
OT setup dedicated to Poly trauma
Samved Orthopaedic Hospital Trauma Centre treats various trauma like
Poly Trauma ( Multiple Fracture)
Periprosthetic Fracture
Stress Fracture
Intraarticular Fracture
Revision Failed Trauma
Complex Trauma
© 2013 | All rights reserved. | Disclaimer | Privacy Policy |