Dr. Dhyan Patel - Orthopaedic Surgeon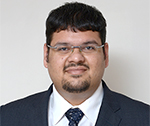 A young & dynamic orthopaedic surgeon, completed his MBBS from Smt. NHL Municipal Medical College, Ahmedabad and his masters in orthopaedics from Padmashree Dr. D.Y.Patil Medical College, Hospital & Research Centre, Pune in year 2011.

Joint Replacement and Revision Joint Replacement is his subject of keen interest and thus he went to Germany for further studies in 2012 to sharpen his skills and since then he is performing Joint Replacement surgeries and he acclaimed to be the youngest Joint Replacement Surgeon.

He is also aiming to establish one of the best centers for orthopaedic treatment in the western belt of India. He also wants to develop some of the most advance technology in orthopaedics like Bone Banking and Stem Cell therapy for treating orthopaedic conditions.