Case of the Week
Patient was presented to Samved Orthopaedic Hospital with low back pain radiating to left lower limb. He was operated for the same problem 15 months back, but again that problem has reoccurred. On MRI he was diagnosed with L4-5 Prolapsed Inter vertebral Disc failed back syndrome with left lower limb radiculopathy.
On examination, he has a sensory weakness in L5 dermatome on left side and instability at L4-5.
He was operated for Laminectomy and Disectomy L4-5 with root decompression and for instability, pedicle screws in L4-5 with cage at L4-5 with bone grafting and fusion L4-5 done as a part of operative treatment.
Post operatively radiating pain has gone and patient is better.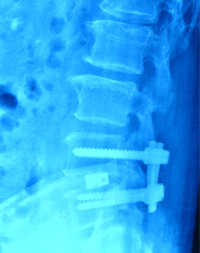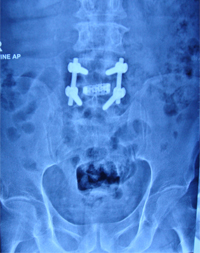 Read More Success Stories...